An ongoing trend in the world of kitchen design is two-tone cabinetry. Whether to create contrast or visual interest, two-tone cabinetry adds something special to kitchen design. Two-tone cabinets can be used to add variety, a pop of color or balance out a space. At CliqStudios our designers have used two-tone cabinetry in many kitchen designs. Here is a look at some of our most memorable two-tone kitchen designs.
As we've discussed previously, a growing trend is cabinetry that has a built-in look. Using a second color for built-in cabinetry helps highlight those pieces.
This New Jersey kitchen incorporates a splash of black by creating a pantry area in the CliqStudios finish, Carbon. Adding molding that differentiates it from the white cabinetry in the majority of the kitchen and makes the piece look more like furniture. The result is a two-tone kitchen is high in contrast.
Another way to create a two-tone effect in your kitchen is to add a different color to your kitchen island. With the growing popularity of kitchen islands, choosing a complementary color for yours will help it stand out.
This two-tone contemporary farmhouse is a perfect example of how to seamlessly blend different colors and styles in a single design. The kitchen has a traditional style around the perimeter of the kitchen using Mendota cabinets. The island uses Shaker style Dayton cabinets.
In this kitchen, the homeowners achieved a modern but classic look that will keep the kitchen up to date for years to come. The white base and wall cabinets combine well with the navy island.
Two-tone cabinets can also create balance and visual interest in your kitchen. grounding base cabinets with darker shades help your upper cabinets shine with beautiful whites. Mixing neutrals might be just the touch your kitchen needs.
The homeowners of this elegant kitchen wanted a tuxedo effect in their kitchen, something that would be timeless no matter how trends change. The black base cabinets ground the design, while the white upper cabinets keep the room bright and light.
This kitchen shows how two-tone cabinetry adds visual interest in a kitchen. The Studio Gray base cabinets to ground the design. The contrast with the upper white cabinets opens the space up and adds a light and bright touch.
Combining Paints and Stains
Finally, two-tone cabinetry can bring together ideas that might seem unusual on paper but are beautiful in design. You can have the best of both stains and paints by mixing the two in their cabinetry design.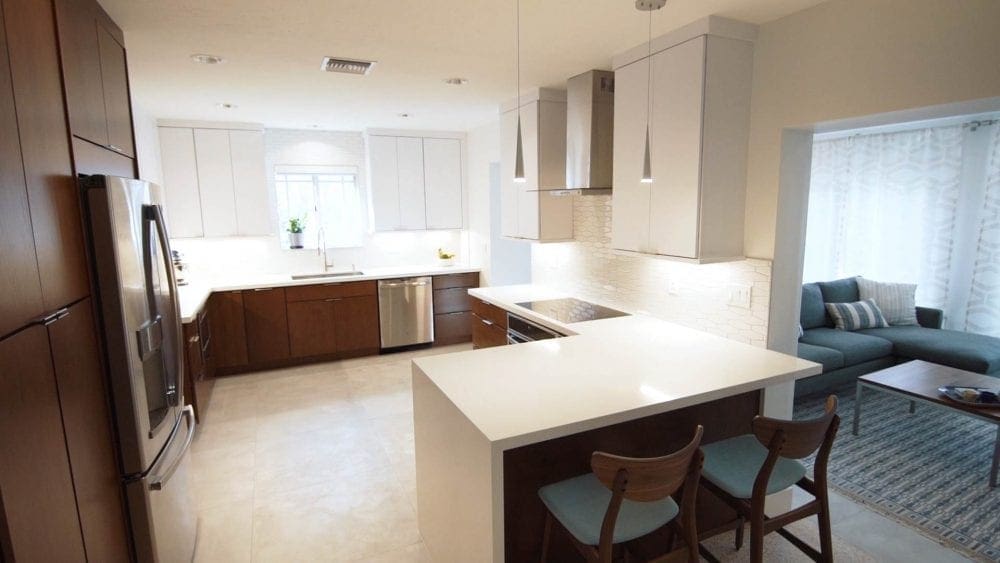 The design for this kitchen made a space that blends both modern and classic design elements. This is done with Bright White paint and Cherry Cider stain. Full overlay slab doors in Style-31 provide a smooth design worthy of any contemporary look.
The post Our Favorite Two-Tone Kitchen Designs appeared first on CliqStudios.